So you wanna be the next Steven Spielberg, eh?
Or preferably a director who's younger, hipper, and cooler than him?
Unless you've got a few million bucks layin' around, you're at a bit of a disadvantage when it comes to the big guys.
Well you used to be.
Before Moment introduced their 4th massively successful Kickstarter campaign, the anamorphic lens.
Now anyone with a smartphone can make a movie.
And a damn good one at that.
Most campaign videos are 2 or 3 minutes long. Moment's is 24.
They don't seem like the type of guys who care what other people are doing.
They're doing their own thing.
And it's BLOWING UP.

What the heck is an anamorphic lens?
If you're reading this, then you probably already know what an anamorphic lens does.
But in a nut shell, an anamorphic lens makes your mobile videos look more cinematic.
You know those horizontal black bars that people add to their videos?
An anamorphic lens does that naturally.
It also adds really cool anamorphic flares like this to your footage: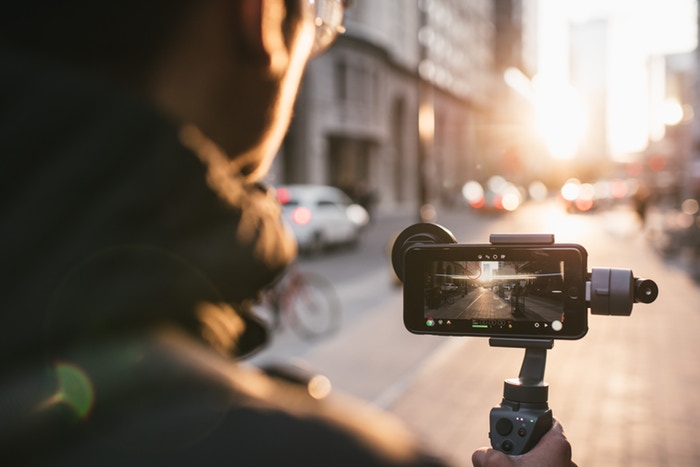 Moment's most recent campaign offers a total mobile filmmaking kit.
You can get the entire bundle if you want, or if you already have some of stuff, you can purchase each item separately.
As with most things, you'll save even more if you get the entire bundle.
What's included in Moment's latest Kickstarter?
Anamorphic lens: The Crown Jewel
By far the most popular aspect of this campaign is the anamorphic lens that's currently selling for $119. It works with iPhone, Galaxy, and Pixel.
Battery phone case: For iPhone X
If you're shooting for an extended period of time, your battery's gonna get drained fast. This sleek phone case doubles as a battery pack that lets you shoot 2X longer.
Universal Gimbal Counterweight: For smooth ridin'
Unless you want your videos to look like Cloverfield, you're gonna need a gimbal.
7 Reasons Why You Should Support These Guys
They're authentic, unique, and creative.
They're using Kickstarter the way it's meant to be used.
Rather than looking to make a quick buck, they're genuine entrepreneurs following through on their dreams.
They care about their product.
Hate to break it to you, but a ton of big-time CEO's don't use the product their company sells.
These guys are expert mobile filmmakers, use their own products, and use them well.
Their product actually works.
Sometimes crowdfunding projects get shut down because the creators WAY over promise the features of their prototypes.
But with 3 previous projects that attracted thousands of backers, you don't have to worry about that with Moment.
Your videos are gonna look SWEET.
Take the time to watch their campaign video and you'll see how cool that lens makes your videos.
Amplify that expensive investment in your phone.
The tech in your phone is unbelievable, and you spent a lot of money for it.
Invest just a little more to help you go from, "Pretty cool videos" to "Freakin' AMAZING videos!"
It's affordable.
This kind of cinematic quality wasn't even available a few years ago.
And even now, it normally costs a small fortune to get these kind of shots.
It's time to get started on your dreams.
These guys followed theirs, now it's your turn.
Click here to check out Moment's anamorphic lens on Kickstarter.