They say the average attention span is 8.2 seconds these days.
But you're gonna have to give me just a little bit longer.
But not much…
2 minutes is all I need.
There are a TON of Kickstarter 2019 guides out there.
And just about all of them are dog sh*t.
Pardon our French.
Below you'll find 13 insanely simple points that explain everything you need to know about how Kickstarter works in 2019.
1. What kind of products are on Kickstarter right now?
Everything.
Seriously.
But Kickstarter design and Kickstarter technology are the most popular categories by far.
2. Are Kickstarter donations/pledges tax-deductible?
Now I'm no CPA, but the answer to this one is clear:
No.
You're "backing" a Kickstarter project in exchange for a product.
You aren't really donating your money to anything.
You're helping beginning entrepreneurs launch their products.
Which is great…
But in exchange for your contribution, they're going to send you the product.
So you're going to have to think of other ways to short Uncle Sam…
If you're into that.
3. How long do Kickstarter projects take to ship?
Kickstarter projects ship about as fast as Amazon Prime packages do…
If Prime packages took several months to get to your house.
This is one of the biggest drawbacks to backing a crowdfunding campaign.
It usually takes a few months for creators to ship out their products.
You can see an estimated shipping date on the bottom left of the "rewards" section on a campaign page.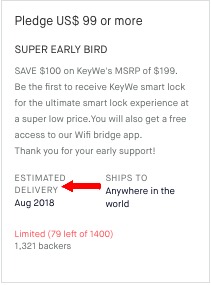 Why does it take so long?
Well a lot of times creators only have a prototype.
They use the money raised on Kickstarter to actually manufacture the product.
And that, my friends, takes time.
4. What if my Kickstarter project fails to deliver?
Kickstarter creators are often newbies when it comes to product development.
So occasionally they run into unforeseen (and costly) issues in production.
Sometimes this can prevent them from delivering their product on time.
And rarely, they aren't able to deliver their product at all.
Reputable creators will issue refunds, but some will take your money and run.
"Well, that sucks!"
You may be thinking.
Yeah, it does.
If that happens, you can spam the hell out of their campaign page by leaving negative comments.
The vast majority of crowdfunding creators aren't scammers, though.
So this probably won't be an issue for you.
5. Does Kickstarter offer refunds?
Kickstarter is a strange, strange organization.
Unlike their top rival, Indiegogo, Kickstarter doesn't really care about profits.
And they generally plead the 5th when it comes to getting involved in creator/backer issues.
Kickstarter's been known to shut down shady projects before, but if a project fully funds, and the creator doesn't ship the promised product, don't look for Kickstarter to get involved to help you out.
6. When does Kickstarter charge your credit card?
Kickstarter doesn't charge your card until after a fully-funded campaign has ended.
So if you back a project with 30 days left, you've got another month before any charges show up.
This makes it super easy to cancel a pledge you've made on a live campaign.
As long as you do it before the campaign ends, your credit card will have never been charged.
P.S. If you've backed a campaign that ends, but hasn't hit its funding goal, you won't be charged either.
7. How does Kickstarter make money?
Kickstarter takes 5% of pledges.
So if a campaign raises $1 million.
They earns a cool $50,000.
5% is a freakin' great deal for creators.
It's free to launch a project, and Kickstarter offers a ton of organic traffic that you'd never get if you just launched an e-commerce site on your own.
8. How do I back a Kickstarter project?
Don't worry, it's easy.
Just go to a project's campaign page, and click "Back this project"
You'll then be taken the the rewards page where you can select your reward.
9. What are early bird rewards?
Most projects offer early bird deals to some of their first backers.
So if a project has 25 days left, and you're thinking about waiting until the end to back, don't.
You'll save more money if you back early.
And remember, you can always cancel your pledge later, so there's no risk in backing early.
10. How has Kickstarter changed since it was founded?
Kickstarter looked sooooooooo much different in 2009.
It used to focus solely on helping creatives bring art and music projects to life, and those projects are still there, but the big money projects are all products now.
11. Which Kickstarter projects have raised the most money?
The most funded Kickstarter campaign of all-time raised over $20 million.
You can see the full list of Kickstarter's most popular campaigns of all-time here.
Wondering what's done the best so far in 2018?
Well here's a nice little post we wrote for ya featuring the most funded Kickstarter campaigns of 2018.
12. Now I know everything about crowdfunding! Now what?
Boy, are we glad you asked.
Consider joining the HypeSquad.
It's a weekly email featuring the absolute best projects from Kickstarter.
And some other awesome stuff too.
You can see a sample email here.
13. Anything we didn't answer?
Just leave us a comment and we'll get back to you ASAP.