Ahhh 2009, what a year.  "The Blind Side," hit theaters, "Party in the U.S.A." topped the charts, and we used our iPhone 3's to stream Pandora Radio like it was our jobs. Times were good.
Well, actually they weren't.  The stock market was in the tank, the housing market was flipped on its head, and pretty much everyone was downright miserable.
If that doesn't scream, "Let's start a crowdfunding platform!" to you, then I don't know what does.  Perry Chen officially launched Kickstarter on April 28th, 2009 and within days it attracted 26 campaigns that would go on to raise over $1 million in the first month.  Just kidding.  Things definitely started off slowly with the average project raising only a few hundred bucks in those first few months.
Archive.org (which is a really cool tool if you've never used it) gives us a look back at what Kickstarter looked like in the early days.  This image, showing how Kickstarter.com appeared on June 4th, 2009,demonstrates how much the site's changed over the past eight years.
How Kickstarter Looked In 2009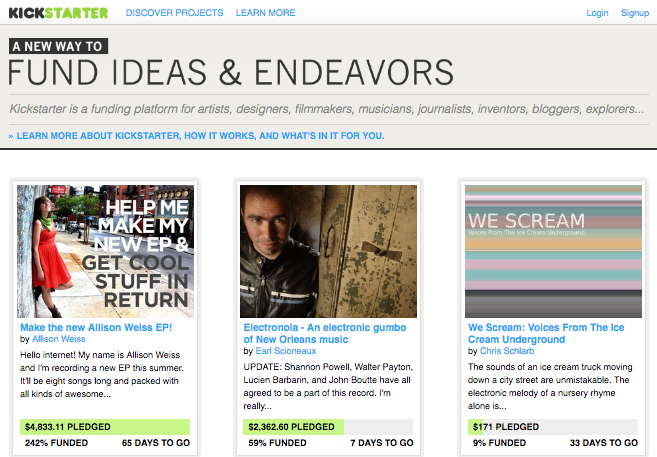 Kickstarter used to focus almost exclusively on individual artists – filmmakers, musicians, and authors who were looking for a little help in fulfilling their dreams.  Books, albums, and short films dominated Kickstarter in 2009 with creators asking for a few thousand dollars at most.  It's certainly a far cry from the tech projects raising millions on the site today.
How Kickstarter Spread The Word
By mid-2011, Kickstarter had established itself as a big fish in the small pond of crowdfunding, but continued to fight the uphill battle of educating consumers about just what crowdfunding was.  This July 2011 snapshot shows a blue header dedicated to teaching visitors more about Kickstarter itself.  A "Featured In" press segment tries to play up the credibility of the young site in such a fledgling industry.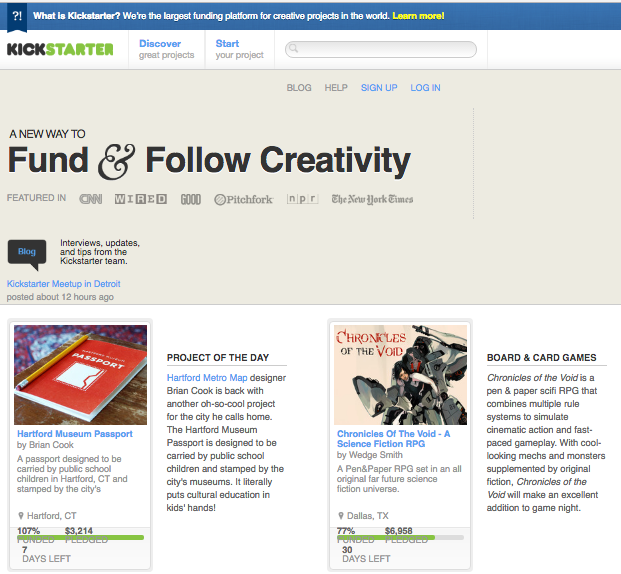 __________________________________________________________________
Fast forward to 2017, and Kickstarter has become a mainstream name.  If you ask random people on the street if they'd heard of it, you'll get mostly positive responses – along with a few, "Oh yeah, they make kickstands for bikes right?"
Kickstarter has definitely come a long way.  It's shifted from a niche website in a space that nobody had heard of to a dominant player in a billion dollar industry.  And they've done it while preserving their core values.  Kickstarter still only takes 5% of the funds raised from successful campaigns, and charges nothing for creators to list a project.  If Kickstarter brought in a couple of Ivy League MBAs, they'd no doubt tell them to increase their listing fees to grow their bottom line – but at what cost?  In a world of Enron's and Arthur Anderson's, Kickstarter remains a feel-good story.  
A site, above all else, that helps beginning entrepreneurs go after their dreams.  Kickstarter's original launch focused around the core belief that, "A good idea, communicated well, can spread fast and wide."  Eight years later, we couldn't agree more.
_____________________________________________________________________