It's back.
No, not your crippling middle school anxiety…
Exploding Kittens!
Well, kind of.
The makers of the most-backed Kickstarter campaign ever are at it again.
And this time things are gettin' spicy.
Throw Throw Burrito is the world's first game where you collect cards and throw burritos at your friends.
It's sorta like dodgeball for hungry people.
(Which is an all-too accurate description of Taco Night at my house.)
Here's everything you need to know about this wildly popular Kickstarter card game in our Throw Throw Burrito review.
Throw Throw Burrito Kickstarter Review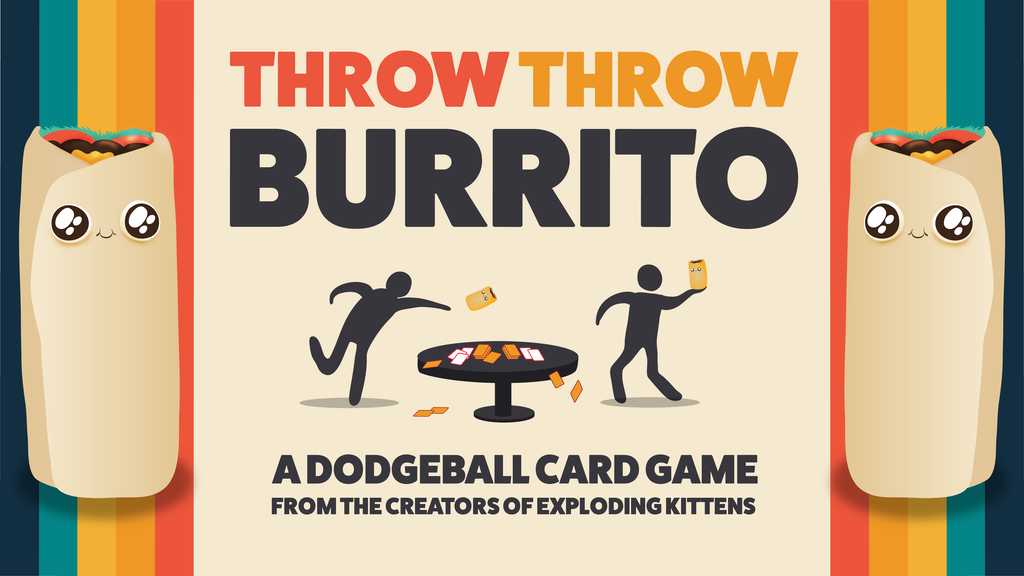 Goal #1: Avoid Flying Burritos
Exploding Kittens shattered Kickstarter records back in 2015, attracting 220,000 backers.
(Including me!)
It's still one of my all-time favorite games.
And Throw Throw Burrito looks just as epic.
Here's how to play Throw Throw Burrito in a nut shell:
Collect cards to earn points.
Avoid burritos being hurled at your face or you'll lose points.
But don't just take my word for it.
Here's a nifty graphic from their campaign page: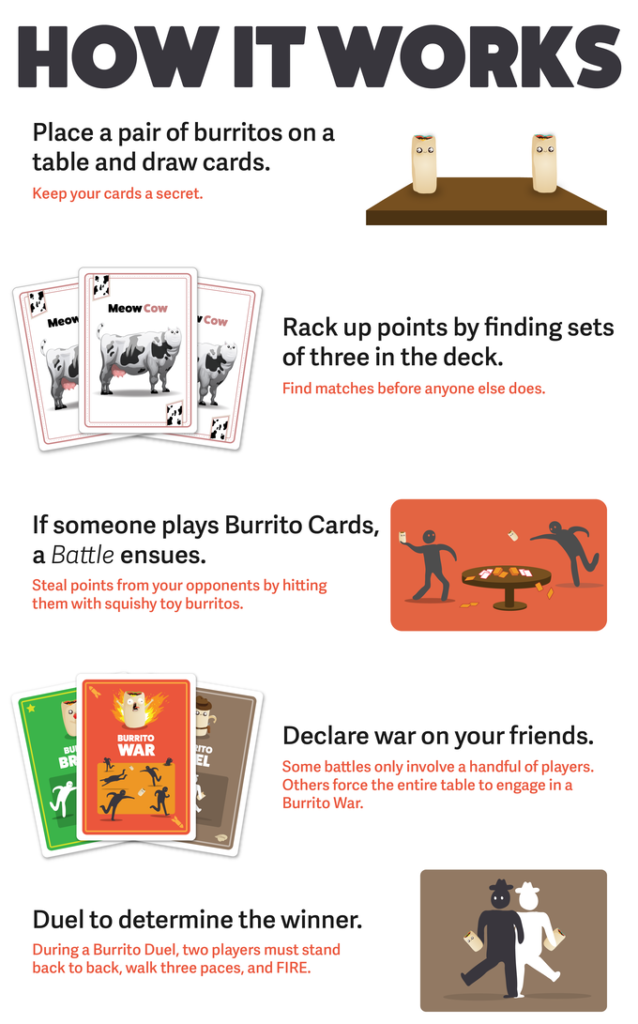 No, These Are Not Real Burritos (Thank God)
They recommend playing with, "The heart of a champion and athleticism of a cheetah."
Which would be exceptionally difficult if these were real burritos because, you know, real burritos make you about as agile as a slug.
So what kind of fights are we talkin' about here?
Well there are three kinds of Mexican standoffs in Throw Throw Burrito:
Burrito Brawl
Burrito Duel
And my favorite, Burrito War
It's a 2-5 player game so you can imagine the carnage caused by a full-scale Burrito War.

How To Get The Kickstarter Exclusive Pack
The Original Edition of Throw Throw Burrito is just $20.
So you could just order that one.
But that'd be like getting a Happy Meal without any french fries…
You're better off SUPER SIZING that sh*t.
The most popular reward by FAR is the $35 Original + Kickstarter Exclusive Edition.
With this reward, you get an additional Kickstarter-only pack with exclusive new artwork.
"So, like, I could just get that exclusive pack when they start selling on Amazon, right?"
Did you read a word I just said?!
This reward is ONLY available during their Kickstarter campaign.
So don't wait around.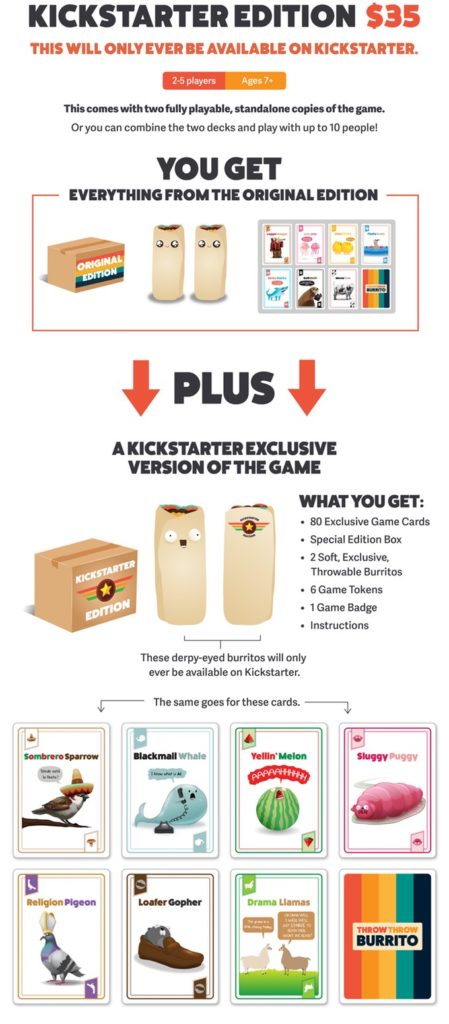 Final Thoughts: Our Throw Throw Burrito Review
Creators Matthew Inman and Elan Lee are basically card game royalty.
Literally everything they touch turns to gold.
Like Kickstarter classics Cards Against Humanity and Unstable Unicorns, Throw Throw Burrito is poised to be the next Kickstarter card game making huge waves out there in the real world.
So before this shows up at every Target in the country, snag yours on Kickstarter today.
(And then go eat some tacos.)

---
Check out the 10 Most Funded (And Awesome!) Kickstarter Board Games of All-Time.
Then subscribe to The HypeSquad!