No, that's not a typo.
Kickstarter's going back to its roots with Quickstarter.
A super simple (and cool) idea that stresses speed and simplicity over detailed planning when it comes to project creation.
Here are 5 things you need to know about Quickstarter.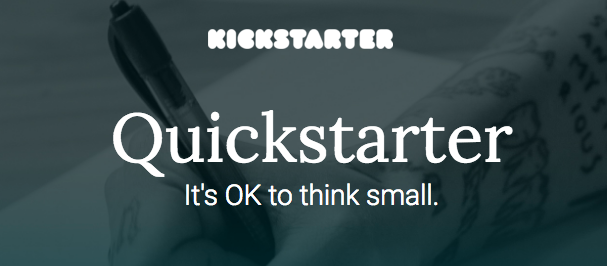 #1: It's not about the money.
Despite its humble beginnings, Kickstarter's attracting some BIG fish these days.
Top projects take months of planning and regularly reach six figure funding levels.
Which can be intimidating to guys like you and me who thought of their idea last night in the garage.
(Would anyone buy a universal top for Tupperware?? Asking for a friend.)
But Quickstarter's different.
It's designed to be quick and dirty.
You design your page quickly, film your video in one day, and have a funding goal of less than $1,000.
#2: No paid media.
We'll let you in on a little secret.
Those campaigns you see raising millions?
They didn't get all those backers for free.
They paid a lot for traffic from Facebook and other media sources.
But unless your great Aunt just died, you probably don't have a ton of cash to blow on ads.
Lucky for you, with Quickstarter, your funding has to be organic.
That means no paid media.

#3: Done is better than perfect.
In the spirit of fully embracing the mission behind Quickstarter, I'm not going to even poofreid this bog poost.
Quick and done is better than perfect and slow.
So if you're thinking to yourself, "Hmmm Quickstarter sounds cool, but I don't know if my idea's good enough."
Stop worrying, and start making.
It's always been free to launch a project on Kickstarter, so you literally have nothing to lose.
#4: Share your hobbies & have fun.
Fun > money.
Every. Single. Time.
Quickstarter is the perfect way to share your hobbies with the world.
When I was in high school, I took a "Life Sports" class where we made fly fishing flies.
When my teacher looked at mine, he took a deep breath and said, "Grant, I've been doing this for 20 years and this is the worst fly I've ever seen."
If Quickstarter had been around back then, I would've launched my project that very day.
Would I have sold many flies?
Probably not.
Would Mr. Leaf have respected me for trying?
Eh, maybe.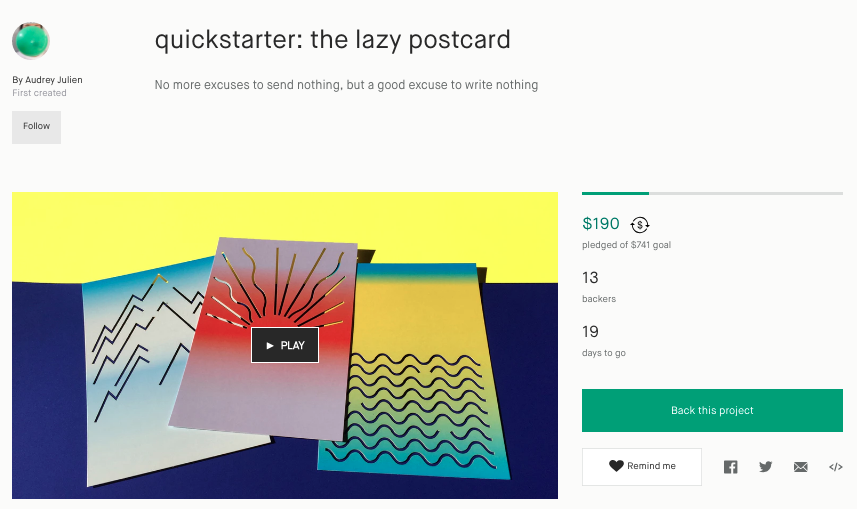 5. Your project should follow these 9 rules.
We've touched on some of these already, but here's the full breakdown of Quickstarter's rules as outlined in the Quickstarter Manifesto.
1. The development process—from sketching an idea to launching it on Kickstarter—should take no more than three months.
2. Keep the campaign under 20 days.
3. The funding goal should be below $1,000 (or thereabouts in your local currency).
4. The main reward should be under $50.
5. The video should be shot over one day with whatever camera you have (smartphone highly recommended).
6. Don't do any PR and media outreach (unless you get contacted).
7. Don't run any paid ads on social media.
8. No stretch goals.
9. Include "Quickstarter" in your campaign name.
What are you waiting for?
Now that you know what it's about, go launch your own Quickstarter project.
And whatever you do, DO NOT steal my Tupperware idea.